Challenge: 90 Trails in 100 Days

In the fall of 2020, I went on a wonderful, adventurous, hike down from the rim of the Grand Canyon into Phantom Ranch on the river. The trip was arduous and the climb out was tough given my hailing from the vertically challenged state of Florida. Prior to this undertaking, I had begun training, in Florida, including perhaps Florida's most vertical trail, the Torreya Challenge in Torreya State Park. After this adventure and the two months of training leading up to it, I became a bit of a couch potato in December and January. About the middle of January, I decided to do something about that. Seeing all the wonderful trails in my area, I set myself a challenge, to hike or bike 90 different trails in 100 days. I gave myself a hundred days to account for weather, work or other impediments to doing a trail each day.  
Now you may be asking, what this has to do with privacy. The short answer is not much, but there is always an angle. In using AllTrails, the trail mapping application, I discovered a nifty way to stalk people. See my previous blog post for more.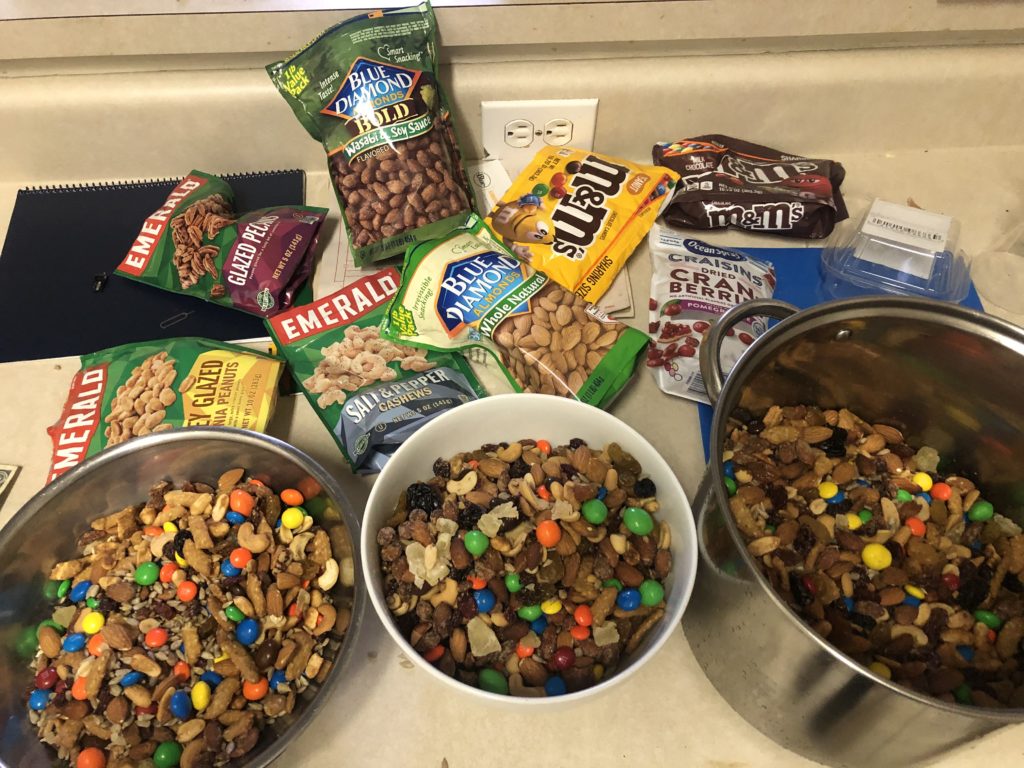 In February, thanks to Publix Supermarkets, I procured a large amount of trail mix. By the end, despite adding some more in March and April, I was down to one container.

My typical kit consistent of day pack with water reservoir, bear bell, bear mace, Chapstick, headphones to listen to Privacy podcasts, snacks (not pictured trail mix), and trail maps. Also not pictured are optional sunscreen and insect repellent.
Off I set on January 30th. The task seemed simple but, as with many things, implementation was more fraught than at first imagined. I tried to do longer trails or those  farther away when I had more time (like weekends) or during nice weather. One early trail, Pond Loop, at Okeeheepkee Prairie County Park, I completed on a rainy afternoon was only 0.5 miles. I decided after that to only include trails over 1 mile long. This lead me to a few times combining short trails into one "trail" or stretching a trail to it's extreme (exploring every nook and cranny) to try to get that mile in. Trying to define a "trail" also led to some creative interpretations. Not all trails are simply laid out in the platonic idealized state. Some are based on forest service roads, some intersect and loop and figure 8. Some are out and back, retracing your steps. I had to break some long trails, like the 30+ miles of the St. Marks trail into more manageable pieces of about 16 mile chunks (8 out and 8 back). Some of my trips weren't trails at all, but I counted them, like when I walked 6 miles home after dropping off a truck at the rental car company. I learned about new trails, which weren't easily found, like the Capital to Coast trail still under construction, which when fully complete with be 120 miles of biking or shared use paths from Tallahassee to the Emerald coast. 
It was perhaps the best time to be out hiking and biking in Florida. Spring weather meant it wasn't too hot, the parks were green and flowers were in full bloom. I saw so many animals, many that your rarely see as a weekend warrior.  In addition to the usual squirrels and lizards, I saw a bobcat, a family of boar, water moccasins and other snakes, a mole,  a red pileated woodpecker, a gopher tortoise, giant mosquitoes, ticks, spiders, and many more. I did not, however, see a bear. Not to say they weren't there, but ever since I encountered a bear last year, I've been hiking with a bear bell and bear mace, so they've thankfully kept their distance. 
What lurks beneath? Creature from the black lagoon? Manatee? Large alligator? Something was moving fast and leaving a wake under the Crooked River in Tate's Hell State Forest.
As a capstone to my challenge, I returned to Torreya State Park to take on the Torreya Challenge. It was a wonderous exhausting 4 hours which left me with a terrible head ache, but I made it. 90 different trails. 98 days in the making. 478 miles covered. Challenge complete. Level UP! 
​
| # | Location | Trail | Miles | Type | Links |
| --- | --- | --- | --- | --- | --- |
| 1 | Lake Talquin State Forest – Lines Track | West Loop | 3.8 | Hike | |
| 2 | Ellinor Klapp-Phipps Park | West Loop | 2.9 | Hike | |
| 3 | J.R. Alford Greenway | Bluebird Loop | 3.9 | Hike | |
| 4 | San Luis Mission Park | San Luis Park Loop | 1.98 | Hike | |
| 5 | Apalachicola National Forest | GF&A Trail | 5 | Hike | |
| 6 | Maclay Gardens State Park | Shared Trail Loop | 5.5 | Bike | |
| 7 | Lake Talquin State Forest – Lines Track | Talquin Loop (Blue) | 6 | Bike | |
| 8 | Okeeheepkee Prairie County Park | Pond Loop | 0.5 | Hike |   |
| 9 | Apalachicola National Forest | Munson Hills | 8.4 | Bike | |
| 10 | Governors Park | Fern Trail | 3.4 | Hike |   |
| 11 | Three Rivers State Park | Eagle Trail | 3 | Bike | |
| 12 | St Marks Trail | North Trail | 16 | Bike | |
| 13 | Ochlockonee River WMA | Old Cemetary Rd | 3.9 | Hike |   |
| 14 | Lafayette Heritage Trail Park | Lafayette Heritage Trail | 6.9 | Hike |   |
| 15 | Wakulla Springs State Park | Wakulla Springs Park Trail | 10.1 | Hike | |
| 16 | Orchard Pond | Orchard Pond Trail | 6.9 | Bike |   |
| 17 | Silver Lake Recreation Area | Silver Lake Habitat Trail | 1.4 | Hike | |
| 18 | Timberlane Ravine Nature Preserve | Timberlane Ravine Nature Trail | 1.5 | Hike | |
| 19 | San Felasco Hammock Preserve State Park | Moonshine Creek Trai | 1.6 | Hike | |
| 20 | Lakeland Highlands Scrub  | Lakeland Highlands Scrub Trail | 3.1 | Hike |   |
| 21 | Catfish Creek Preserve State Park | Campsite 2 White Trail | 5.5 | Hike | |
| 22 | Black Creek Preserve | Red Trail | 4.9 | Hike |   |
| 23 | Tom Brown Park | Magnolia MTB Trail | 3 | Bike |   |
| 24 | Central Park | Central Park Lake Loop  | 1.9 | Hike |   |
| 25 | Apalachicola National Forest | Camel Lake Loop | 8.2 | Hike | |
| 26 | J. R. Alford Greenway | Yellow Loop | 5.3 | Bike |   |
| 27 | Miccosukee Canopy Road Greenway | Miccosukee Greenways Trail | 15.5 | Bike |   |
| 28 | Bald Point State Park | Loop | 3.1 | Hike | |
| 29 | A.J. Henry Park | A.J. Henry Park Trails | 1.9 | Hike | |
| 30 | Alfred B. Maclay Gardens State Park | Bike Loops | 5.7 | Bike | |
| 31 | Wakulla State Forest | Nemours Trail | 1.6 | Hike | |
| 32 | Ochlocknee River WMA | Cut Through Lewis Loop | 2.5 | Hike |   |
| 33 | Kolomoki Mounds State Park | Spruce Pine Trail | 3.1 | Hike | |
| 34 | Wilson Hospice House | Wilson Hospice House Trail | 1.3 | Hike |   |
| 35 | Marjorie Turnbull Park | Trail | 1.6 | Hike |   |
| 36 | Tallahassee | Morning Hike from Budget | 5.4 | Hike |   |
| 37 | Gil Waters Preserve at Lake Munson | Trail | 1 | Hike | |
| 38 | Bald Point State Park | Sandy Trails | 4.2 | Bike | |
| 39 | Elinor Klapp-Phipps Park | Redbug Trails | 4.6 | Bike | |
| 40 | Tate's Hell State Forest | High Bluff Coastal Loop Trail | 9 | Bike | |
| 41 | Ochlocknee State Park | Pine Bluff Trail | 1.2 | Hike | |
| 42 | St. Joseph Island | Loggerhead Trail and Maritime Hammock Nature Trail | 21.5 | Both | |
| 43 | Tom Brown Park | West Cadillac Trail | 3.1 | Bike | |
| 44 | J.R. Alford Greenway | Long Leaf Trail | 4 | Hike |   |
| 45 | Alfred B. Maclay Gardens State Park | Ravine Trail | 1.9 | Bike | |
| 46 | Cascades Park | Cascades Park Loop | 2.5 | Hike | |
| 47 | Apalachicola National Forest | Oak Park Bridge Trail | 4.8 | Hike | |
| 48 | St. George Island State Park | Gap Point Trai | 5.5 | Hike | |
| 49 | St. George Island State Park | Sugar Hill Beach Old Road | 7.3 | Both | |
| 50 | St. Marks Trail | Wakulla Springs to St. Marks | 16 | Bike |   |
| 51 | Myakka River State Park | Fox's Low to Mossy Hammock | 3 | Hike | |
| 52 | Myakka River State Park | Mossy Hammock to Fox's Low | 9.5 | Hike | |
| 53 | Plant City | Dean's Ride | 8.5 | Bike |   |
| 54 | River Rise Preserve State Park | River Rise Preserve Trail | 2.9 | Hike | |
| 55 | St. Marks Trail | North Trail | 9.8 | Bike |   |
| 56 | Tom Brown Park | Subaru to Tom Brown | 3.5 | Hike |   |
| 57 | Apalachicola National Forest | Wright Lake White Trail | 5.5 | Hike | |
| 58 | St. Mark WMA | Plum Orchard to St Marks Via Port Leon | 8.2 | Hike |   |
| 59 | Capital Circle SE  | Captial Circle SE Shared Use Path | 13 | Bike | |
| 60 | Econfina River State Park | Blue and Orange Trail | 12.5 | Bike | |
| 61 | Anita Davis Preserve at Lake Henrietta Park | Lake Henrietta Trail | 1.8 | Hike | |
| 62 | Goose Pond Trail | Goose Pond Trail | 2.7 | Hike |   |
| 63 | Wakulla State Forest | Double Springs Trail with Petrik Spur | 4.7 | Bike | |
| 64 | Fred George Greenway and Park | Fred George Loop | 1.5 | Hike |   |
| 65 | Lake Talquin State Forest | Long Leaf Loop | 3.9 | Hike | |
| 66 | Guyte P. McCord Park | Sculpture Trail | 1.2 | Hike | |
| 67 | Ochlockonee Bay Trail | Ochlockonee Bay Trail | 31.2 | Bike |   |
| 68 | Optimist Park | Indian Head Trail | 2 | Hike | |
| 69 | Chase Street Park | Monticello "Ike Anderson" Bike Trail | 4.5 | Bike |   |
| 70 | Apalachicola National Forest – Bradley Bay Wilderness | Monkey Creek Trail Head on Florida Scenic Trail | 4.9 | Hike | |
| 71 | FSU Bike Path | Ocala Rd to Stadium Drive | 2.3 | Bike |   |
| 72 | Seminole State Park | Gopher Tortoise Nature Trail | 1.8 | Hike | |
| 73 | J.R. Alford Greenway | Wiregrass and Beggarwood Loop | 3.3 | Bike |   |
| 74 | Lake Talquin State Park | Lake Talquin State Park Trail | 1.6 | Hike | |
| 75 | Capital to Coast Trail | St. Marks to 319 | 24.3 | Bike |   |
| 76 | Constitution Park | Dolls Head Trail | 2.4 | Hike |   |
| 77 | East Roswell Park | Park Loop Trail | 2.1 | Bike |   |
| 78 | Chattahoochee-Oconee National Forest | Andrews Cove Trail | 3.8 | Hike | |
| 79 | Unicoi State Park | Bike Trail | 3.5 | Bike | |
| 80 | Unicoi State Park | Anna Ruby Falls | 1 | Hike | |
| 81 | Brinkley Glen Park | Brinkley Glen Trail | 1 | Hike | |
| 82 | Letchworth-Love Mounds Archaelogical State Park | Letchworth Mounds Loop | 2.7 | Hike | |
| 83 | St. Marks WMA | Florida Scenic Trail | 5.5 | Hike |   |
| 84 | Econfina State Park | River Loop (Red Trail) | 3.3 | Hike | |
| 85 | Torreya State Park | Torreya Trail | 6.6 | Hike | |
| 86 | Lafayette Heritage Trail Park | East Cadillac Loop | 2.6 | Bike | |
| 87 | Governors Park | Fern Trail, Kohl's Trail and Blairstone Multi-Use Trail | 4.4 | Hike |   |
| 88 | Apalachee Regional Park | Cross Country Loop | 3.3 | Hike | |
| 89 | St. Andrews State Park | Road and Pine Flatwoods Trail | 5.5 | Both | |
| 90 | Torreya State Park | Torreya Challenge | 9.3 | Hike | |
|   |   |   | 478 |   |   |